Policeman, policewoman, police constable.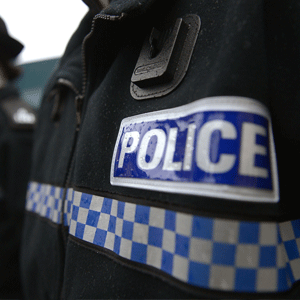 You will need to contact your Local Police Force to apply.
Each police force has its own recruitment rules, but the basic guidelines are the same. You'll need to:
be aged 18 or over;
be a British or Commonwealth citizen, a European Union (EU) or European Economic Area (EEA) citizen, or a foreign national with the right to stay and work in the UK for an indefinite period;
pass background and security checks, and give details of any previous convictions.
If your application is successful, you'll be invited to an assessment centre where you'll:
have an interview;
take written tests;
take a physical fitness test;
take a medical and eyesight test;
If you've got a degree, you could apply for the Police Now Graduate Leadership Development Programme.
If you've got management experience you could apply for direct entry as an inspector or superintendent.  Lead Beyond has more information about direct entry.
The College of Policing has more information on careers in the police service.
You'll need the following skills:
the ability to communicate well;
confidence, courage and initiative;
the ability to learn facts and procedures quickly;
to be calm and decisive in challenging situations;
the ability to work in a team.
You'll work as a uniformed officer on patrol, chicking the security of public areas. You'll also work at a police station.
Your day to day tasks may inclue:
Responding to calls for help from the public;
Investigating crimes and offences;
Interviewing suspects and making arrests;
Giving evidence in court;
Controlling traffic and crowds at large public events and gatherings;
Giving the public advice on personal safety and crime prevention;
Promoting respect for people in a relation to their race, diversity and human rights.
You'll work with other police officers and staff like police community support officers, and investigators for crime scense and road traffic accidents
The following is a guide only:
| | | |
| --- | --- | --- |
| Starter | £20,000 to £23,000 (Constable) | |
| Experienced | Up to £38,000 | |
| Highly Experienced | Up to £43,000 (Sergeant) | |
| Inspectors | Up to £53,000 | |
| Chief inspectors | Up to £60,000 | |
Working Conditions
You'll usually work 40 hours a week on a shift system. This could include nights, weekends and public holidays.
When you're on patrol, you'll usually be in a car or on foot.
Depending on your area, you'll also patrol by bicycle, motorbike, horseback or boat.
The job can be physically demanding, and sometimes dangerous.
Further Information
For further information click on the links below: